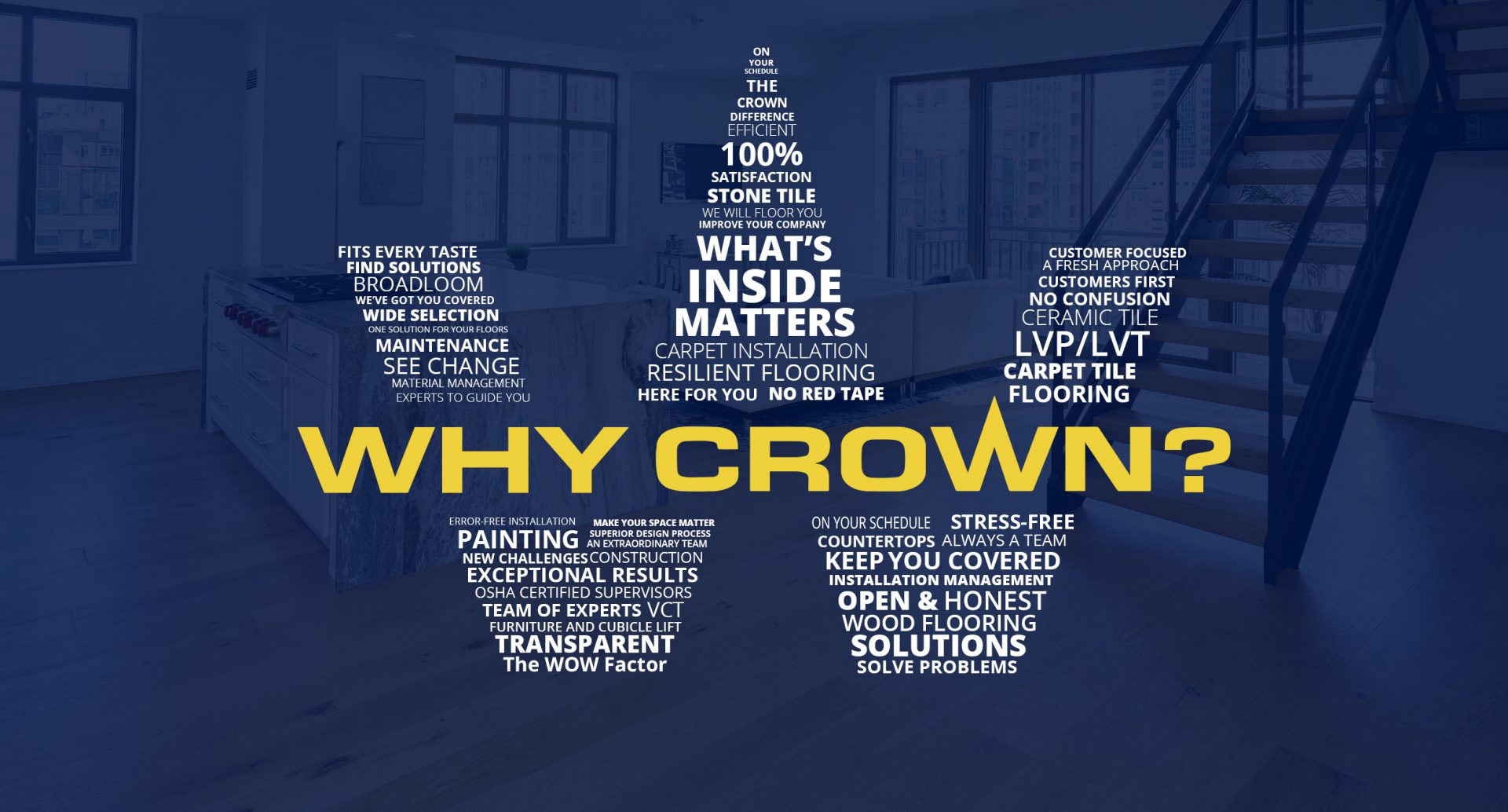 We are a collective group of like-minded individuals all dedicated to the construction industry with a special passion for interior finishes. We seek relationships with customers who value a company that serves to solve problems while prioritizing workmanship and industry best practices over bargain bidding. We utilize Trade Partners who appreciate and reciprocate transparency in the course of conducting business.
WE ARE CROWN.
Crown Coverings has developed a fresh approach to your covering projects from flooring, countertops, painting and more. Our solution based systems will make your renovation and construction projects as stress-free as possible. Since opening our doors in 2011, we've developed an extraordinary team built around customer focus, design processes and installation management that have helped us complete challenging projects all over Illinois and the US with exceptional results. As we work with you, we strive to keep our process transparent, open and honest with no red tape, no confusion and on budget. We work at your site, entirely on your schedule, which means our experts can help guide you every step of the way.
Fully Trained Professional Staff
Eco-Friendly Products & Installation
Minimal Interruptions for Your Business
After Hours Installation to Meet Your Schedule
"At all stages of the process, We've got you covered."

PRE-CONSTRUCTION BUDGETING AND SPECIFICATION CONSULTING
▪ A/D community
▪ General Contractors
▪ Facility managers

▪ Carpet Tile & Broadloom
▪ Ceramic & Stone Tile
▪ Resilient Flooring
▪ Wood Flooring
▪ lvp/lvt/vct
Our teams work together to deliver higher than expected results for your project. The most experienced and well trained professionals in the industry ensure Your Project is in the best hands.
Estimating, Project Solutions and Project Specification are handled by our team of experts who are always available. Their solid advice, education and guidance will help you make more informed decisions and mitigate risks.
For nearly a decade Crown Coverings has installed and renovated millions of square feet of floor coverings for companies such as Target, Harley Davidson, Chrysler, Verizon, Lifetime Fitness, YMCA, Toll Brothers and many more. We've developed an extraordinary team and designed processes that allow us to solve the most challenging problems and complete challenging projects successfully throughout Illinois and The United States.