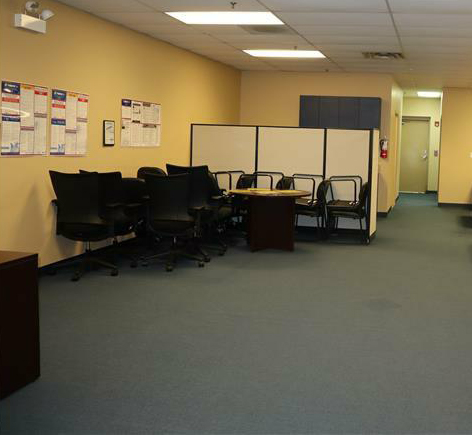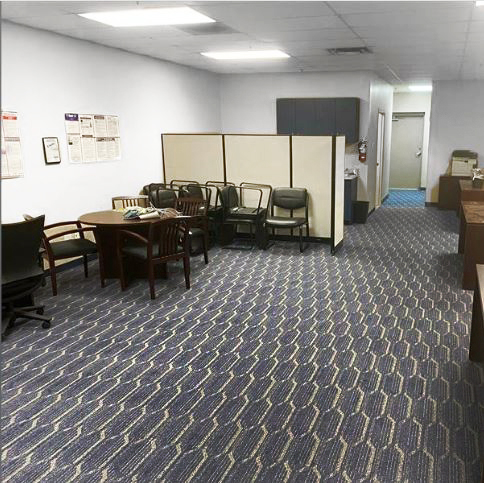 Slide arrow the icon to see the full before and after.
Solutions for Every Floor
Carpet is a great option for a variety of projects, and there are many benefits. Today's products are environmentally friendly, engineered to resist staining and fading and withstand even the heaviest foot traffic.
New carpet is the lowest VOC-emitting flooring choice available to today's consumer. It acts as a passive air filter by trapping dust, particles and pollen to remove them from the air. It reduces noise by a factor of 10 by acting as a sound barrier, and the design possibilities are virtually limitless. Carpet can also act as an insulator in colder months by retaining warm air for longer, while making a space feel more comfortable.
It's an impressive flooring solution that looks good and doesn't sacrifice functionality. We offer carpet tile, broadloom, walk-off and static dissipative carpet varieties that fit seamlessly together in any room.
DISCOVER YOUR FLOORING OPTIONS
Get a Free, Wall-to-Wall Carpet Cleaning.
Fill out the form below to request a quote for your commercial carpet project and receive your free cleaning. Or call 224-828-2818 to speak to a flooring expert.
Limited Time Offer:
Your first Wall-to-Wall Carpet Cleaning is on Us!
We offer quality installation services with a wide variety of styles of carpet. Broadloom and carpet tile are specified for commercial projects more than any other type of flooring, because there is proven performance in multiple business sectors, from corporate office spaces, education, retail, hospitality, and beyond.
With an endless array of styles, the advancing technology of dying and printing can still be one of the most impactful ways to make a statement in your facility. Carpet tiles are highly versatile, and incredibly high performing.
At Crown Coverings, our mission is to provide you with the trust that your product has been selected and installed to give you the best long-term value for your application. No matter the goal of your project, we want to provide you with top-notch design, sales and installation expertise. Our owners and installers have decades of experience in the flooring industry, and our expertise makes all the difference in ensuring that your project exceeds industry standards. We never take shortcuts, and we know what's going to make your project stand the test of time. Going with a less experienced carpet installation team can affect your warranties and the performance of your broadloom, carpet tiles, or carpet plank long-term.
Carpet Tile
Quick and efficient installation with easy-to-replace modular sections.
CARPET TILE
Broadloom
A seamless tufted option that allows for wall-to-wall installation.
BROADLOOM
Broadloom is a flexible tufted carpet product that is laid on carpet padding and cut to size for wall-to-wall installation. It is produced on a loom and is typically sold in large rolls. Broadloom can be cost-effective to cover a large area, but repairs are much more costly than that of Carpet Tile.
We have developed working relationships with a multitude of carpet manufacturers to make sure that you have the right product for your project.








"These people are great! We had them come in and put carpet on our stairs. Their selection was great, they were helpful through the whole process, and the finished product is exactly what we wanted. If you need flooring, you need to give them call."
CHRISTOPHER
Positive: Professionalism
"Our office building needed some carpet renovations. Crown Coverings made it a seamless process from start to finish. The installation was quick and professional and customer service was adamant on providing the best service possible."
ERIC
Positive: Professionalism, Punctuality, Quality
"Great to work with and fantastic customer service! They were able to get me an estimate for work the same day I called and a quick turn around on the installation. Give Rocco and his team a call for your flooring needs."
KYLE
"Have been working with Rocco for a few years now. He is responsive, professional and great to work with. Scheduled work is always completed in time and with out any issues. Would highly recommend his company for any flooring need."
MONICA
"If you need someone who truly cares about your business, and is a pilar in the local community, you have come to the right place."
ROBERT
Want to talk to a Flooring Pro?
We know that choosing the correct flooring for your space can be a lot of work.
Let us take the stress out of the process and help you come up with a solution for your space.