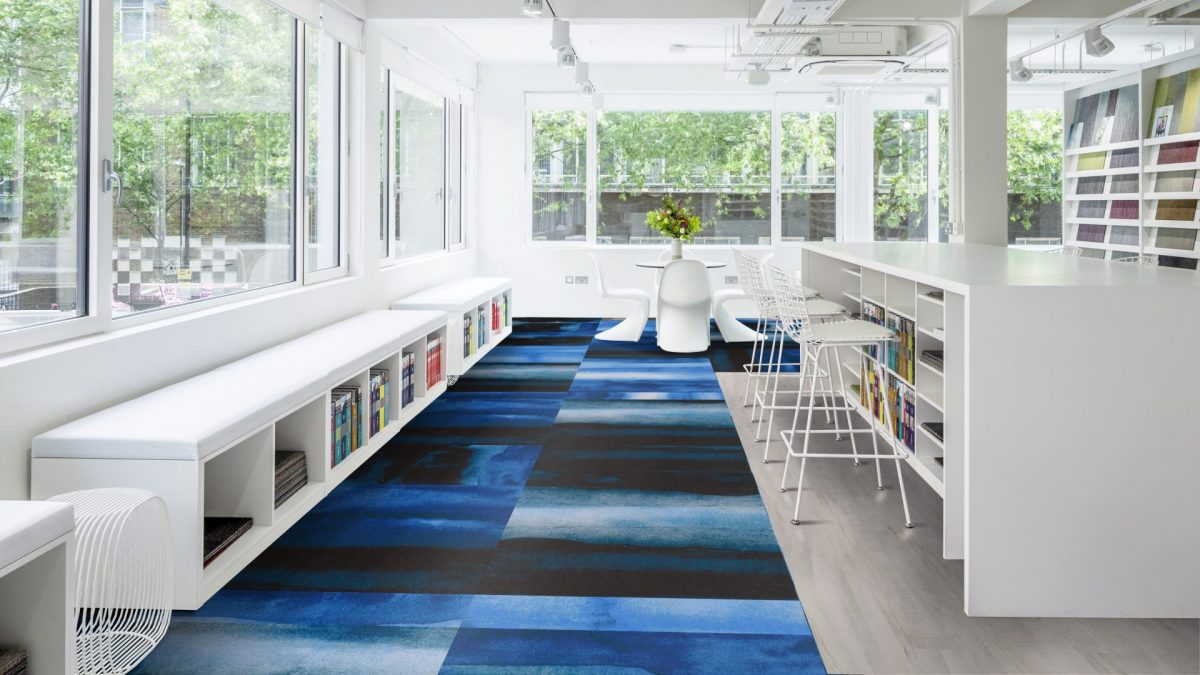 3 Areas to Consider in School Flooring Solutions
The way that we interact within our spaces has changed drastically in the previous year. This leads to design options in the educational space being re-evaluated to help keep everyone safe. A floor can serve more than one purpose. These can include providing a durable and beautiful design, telling a story, and serving as a wayfinding solution. School flooring solutions can be used to add color, energy, and excitement to the space, or you can utilize it in a streamlined and timeless method.
Trends in School Flooring Solutions
New trends emerging within school flooring include variety seating, flexible technology, and collaboration spaces. Most projects begin with flooring solutions. It can be used to enhance the aesthetic of the space and to guide visitors through wayfinding. It can be effectively utilized as a subtle tool to help visitors and students find their way around more easily, and can even promote flows of traffic through hallways.
A couple of areas that have changed in educational flooring are the use of LVT and carpet tile. LVT has been replacing flooring such as VCT, stone, hardwood, and epoxy because of its low level of maintenance, durability and moisture resistance. Carpet tile has also taken a forefront as an alternative to utilizing broadloom. Carpet tiles offer a wide range of colors and patterns and are easily replaced if they are damaged. They allow for moisture to wick through the backing and help to eliminate the risk of mold and bacteria growth between the carpet and subfloor.
Functions
In addition to learning in a classroom, school and campuses serve many functions. These can include sporting activities, clubs, music, and wayfinding in the hallways. Each of these spaces have their own requirements for flooring solutions.
There is a large range of school flooring solutions, and while each offers its own strengths, it's crucial to stay current on the newest technologies. An example of this is interlocking carpet tiles, which are easy to install and replace without tearing entire floors up. Older flooring solutions had higher price ticket maintenance costs and less longevity, but there's several solutions that can reduce the cost over time.
1. Classrooms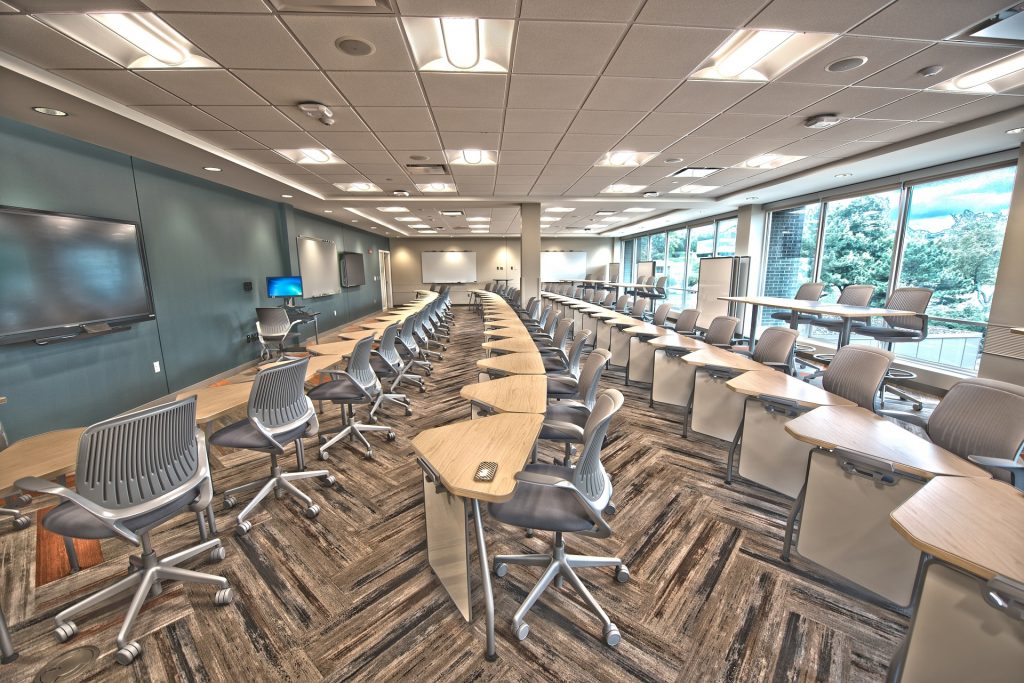 Flexible, collaborative and multi-use spaces are becoming much more of a trend within educational spaces. Collaborative projects require flexibility in learning spaces, and there has been a definitive shift in many curriculums that require this. Flexible furniture options require durable flooring solutions.
When a student enters a classroom, the visual construction of the room is the first thing that they will notice. Aesthetic matters more in the classroom than in most other places on the school campus. Students need the feeling of comfort in order to effectively learn, and they have to be able to focus without getting distracted. Classroom flooring also needs to be safe and slip resistant. Furniture being pushed back and rearranged for classroom activities and grit tracked in on shoes can beat up most floors. Therefore, it's important that the floor is aesthetically pleasing, safe, durable, warm and comfortable.
Carpet Tiles
Carpet tiles are perfect for classroom floors that need to be comfortable, soft, and insulated. Low profile carpet tiles are durable under heavy foot traffic and are slip resistant. The endless choices for design options make it easy to personalize to your school through colors and patterns. The softness underfoot is also a major advantage to teachers who are on their feet all day.
One of the most exciting features of carpet tile is that you can pull it up without having to remove the entire carpet or furniture from the room. You only have to replace the one tile.
Vinyl Tile:
Vinyl tile can come as VCT or LVT. VCT is a vinyl composition tile and has been used in school traditionally for decades. It's a porous material that contains vinyl, limestone, and several other ingredients. VCT can require quite a bit of maintenance. VCT has to be waxed and polished regularly. However, it is very durable under high traffic and inexpensive.
Facility Managers often opt for LVT, or luxury vinyl tile, these days. This flooring contains 100% vinyl and is not porous. LVT comes in an unlimited number of patterns and can look like wood flooring or other materials. LVT is a more long-lasting and low maintenance option than VCT. There is no need for waxing and polishing, making it a great option for schools.
Laminate
Laminate used to be a very popular option in schools, but it's not utilized as frequently anymore. Other flooring technologies have surpassed laminate as an option. It is, however an inexpensive options that's scratch resistant. It's not typically recommended over carpet tile or LVT for the classroom.
2. Hallways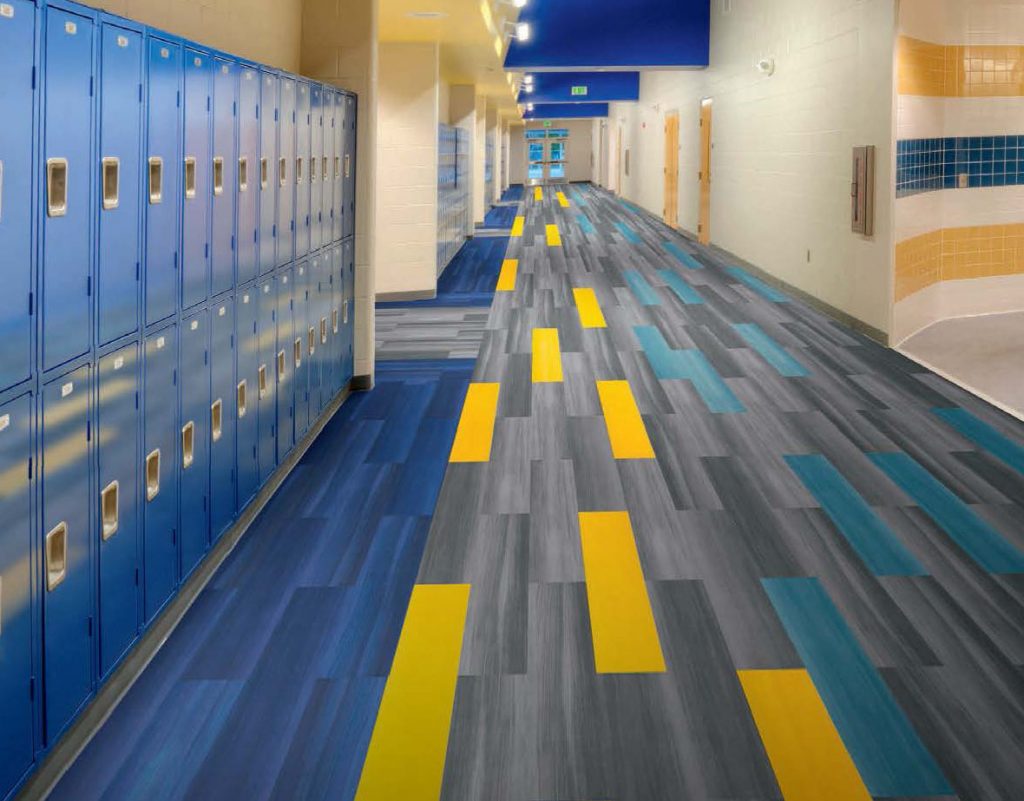 Hallways are one of the first things that people experience when they come into the building. This makes them crucial to the visual presentation and layout of the school. It's important to have suitable flooring in this space. This includes floors that are durable for heavy foot traffic, scuffs, and scratches. They should also be slip-resistant and noise-reducing.
It's crucial for flooring in these spaces to be resilient. Vinyl tile can be a good option for hallways, and while VCT has been more traditionally used, LVT is a better option when figuring out costs going forward. If you want noise reduction in hallways, carpet tile could also be a useful solution for your project.
3. Gymnasiums
With all of the benefits of a robust physical education environment in the school, it's important to take care and consideration into choosing the flooring systems in your gymnasium Gyms can be difficult for flooring due to it's a large range of uses. Depending on the school and activities involved, gyms can be utilized for basketball, dance, yoga, free weights, and weight machines to name a few.
An great option for a gym is epoxy flooring or a seamless flooring option such as hardwood. While maple is traditionally used, cushioned-backed resilient flooring is being seen more and more in gymnasiums. This material allows for longevity in the floor as well as money savings.
Branding
Some design options to consider include incorporating custom school logos into your school flooring solutions. Branding creates a sense of solidarity among students as well as an identity for the school. It's more than just utilizing graphics and colors. This makes your space into an experience as you interact with it, and causes an emotional response and connectivity.
However, branding a space doesn't have to mean that you stick your logo and school colors everywhere. In fact, it can be much more about creating an identity with flooring and colors that flow together and create a sense of consistency within your space.
Other Considerations
While there are several considerations to look into when choosing flooring for educational spaces., the most important is following code and testing standards. Slip and fall resistance, durability, lifecycle costs and sustainability are all things to consider when choosing the proper flooring.
Sustainability plays a huge factor in flooring for educational facilities. Lifecycle expectancy is one of the most desired properties in the market, as this lowers the cost of the flooring over time. Specified materials can be recyclable and last 20-30 years if you're working with flooring specialists who know their product and maintenance specifications.
The Crown Difference
To ensure the correct school flooring solution for your project, you need a commercial flooring company that knows the flooring process from sourcing to completion. At Crown Coverings, we have decades of experience in the commercial flooring industry and know the products that will work best for your project. Contact us today to learn more about how we can help you with your education flooring needs.