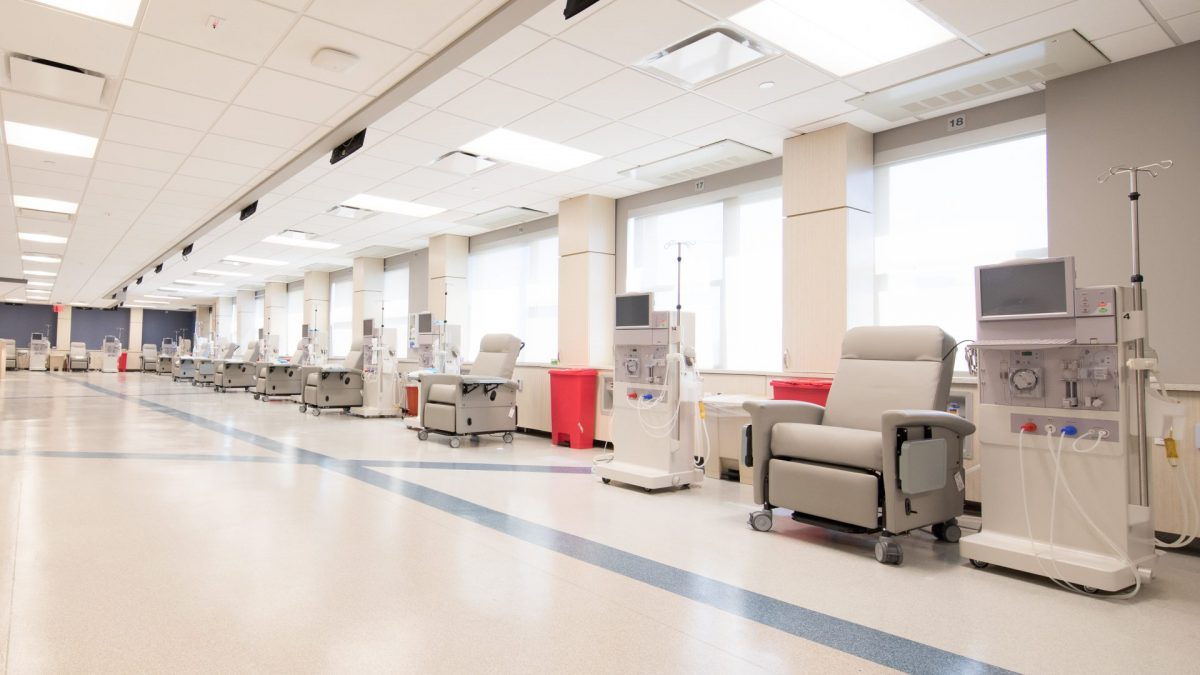 Healthcare Flooring: Everything You Need to Know About Updating Your Facility
Flooring in a healthcare facility is one of the largest surfaces and plays a critical role in the health and safety of the environment. This makes it a critical decision to choose the proper flooring. For example, a seamless floor allows for a sanitary environment as well as permits the wheels of hospital beds to move effortlessly through the space. Proper flooring is the first step in creating a safe, clean, well-designed healthcare facility.
Seamless Healthcare Flooring
Even outside of healthcare facilities, seamless flooring has become a priority over the recent year because it's the best choice for infection control following the pandemic. Sheet vinyl is a great option for a seamless flooring installation that is easy to clean and moisture resistant. The FGI (Facility Guidelines Institute) recommends that areas such as operating rooms in a hospital have a monolithic or seamless floor. Patient rooms, however, don't have to be seamless according to these guidelines. It's still not a bad idea to consider seamless floors in spaces such as patient rooms as daily traffic from patients, visitors and staff can prevent the patient room from being completely sanitized every day.
High-performance adhesives with high moisture performance
Damage to facility flooring can happen because of heavy rolling loads from hospital beds. These beds carry people of varying sizes across the entire facility, and the added stress to the floors can cause additional wear on the floors in the hospital. The floor directly under the patient's bed in the patient's room is the biggest issue, as there is significant, repetitive stress on the floor. Best practice calls for a high-performance adhesive underneath bed areas to add extra security in these spaces. This is not general practice, but can increase the longevity of your flooring significantly.
Moisture happens throughout the entire facility, and is a very complex concern in a medical facility. Adhesives are typically water-based and adding moisture will make the adhesive fail. Advancements in adhesive technology has advanced significantly to include 99% moisture limitations. This makes it easier to take control of limiting moisture in your flooring.
Minimize sheet product seams
Standard corridor size in a hospital is eight feet. Commercial sheet vinyl typically comes in one width, which is 6'6" or 2 meters. With this standard product, you would have to have a seam offset within the hallway. Oftentimes, designers will use a fill-size piece of sheet vinyl down the center of the corridor with a one foot border on either side. This results in two seams throughout the corridor. You can find sheet vinyl that comes in 9' and 12' widths, so this is an important product factor to consider when choosing what you utilize in your space.
Uniform Manufacturer's coating
Many facilities will include products from different manufacturers, with different specifications for maintenance. However, if you utilize the same coating across the various types of flooring products that you use, it will allow for maintenance to remain pretty much the same throughout your facility.
Optimize cost by mixing flooring
Most specifiers consider sheet vinyl to be the best product for infection control, and it can be used throughout the medical facility. However, some people prefer to use a combination of LVT and sheet vinyl to optimize their cost for the project. This decision is ultimately up to the end-user as LVT is easier to replace should it get damaged, which can be helpful in high-traffic spaces.
Low Contrast Healthcare Flooring Options
Low contrast colors added underneath of a surgical table can help to assist in finding dropped instruments and objects. This means that it's fairly homogenous in color and easy to spot anything that may be on the floor. Try to get a uniform/solid look to the vinyl that has chips of similar shades throughout. The space underneath of the OR bed is also the most prone to damage in the room. Consider making this space a different color so it's easy to replace one section rather than replacing the floor in the entire room.
Healthcare Flooring in Entrances and Waiting Areas
The main space that's going to receive the most traffic from patients and their families is the entrances and waiting rooms of your space. It's important in these areas to use a durable product that will accommodate high foot-traffic and rolling-load traffic. Easy-to-replace product also keep cost down in these spaces. These areas need to be non-slip to avoid injuries as well as stain resistant and waterproof. A good option would be luxury vinyl tile (LVT), vinyl composition tile (VCT), sheet vinyl, rubber, or linoleum.
As professionals in the flooring industry, we know what goes into the decisions and specifications of choosing the proper flooring for your facility. Contact us to discuss your options.