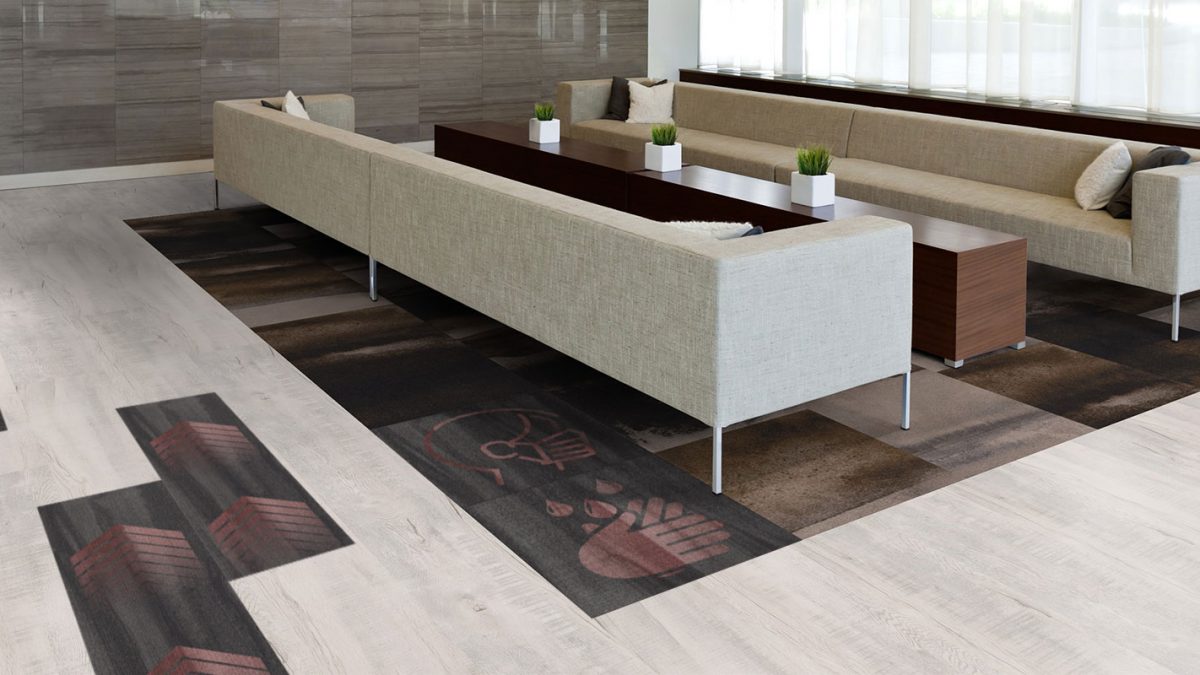 What is Wayfinding?
What is Wayfinding?
The last year has brought a lot of questions to people within their workspaces, and a current trend has been analyzing your business's wayfinding solutions. This is new to many businesses, so we wanted to answer the question: what is wayfinding? Wayfinding is the systems that we put into place in our spaces that help guide people throughout the space. Successful wayfinding helps people understand their environment and navigate the space in a deliberate way.
You'll often find wayfinding as a priority in transportation spaces, healthcare buildings, and university campuses. Visual cues allow people to feel safe navigating complicated environments.
This past year has brought wayfinding systems into common, everyday spaces such as convenience stores and banks. Finding our way through these spaces in a safe way has become a priority, as typical social norms didn't allow for proper social distancing. Businesses required new solutions over this last year. This changed their spaces and made them safe and effective for people to navigate. From dots in checkout lines spaced 6 feet apart to arrows in corridors and aisles keeping movement one-directional, our way of guiding people through spaces has changed.
Designed for Social Distance
People are continuing to want control and flexibility with how much they are interacting with people. Designing your space for social distance is still a key factor in going forward with your business. Adding temperature checks, allowing employees to work from home, and reserving a desk that is spaced away from others are all ways in which we can keep employees safe going forward.
Changes continue to move forward within retail as well. Not only are people using visual cues within the space, but businesses are allowing for contactless delivery and pick-up options.
Messaging and signage must be instructive and straightforward. It's important to make design choices to give people a sense of ease and safety within the space.
We expect experiences within these spaces and the innovation and technologies that have come to the forefront to continue well past the pandemic. This year has shaped the way that people are willing to navigate within a space. This has made people adapt to that change.
Ways to Utilize Wayfinding
Using signage is one way to make wayfinding effective in your space. Try implementing signage that provides information in a reassuring way. This will allow people to feel safe within your space. Many people are excited to get back to the office. Making your wayfinding a positive experience for the employees will contribute to an environment with workplace satisfaction.
Color and shape affect the way that people way find in your space as well. Design treatments play an important roll in wayfinding. From color choice to the use of iconography, familiar visual cues can help people by connecting new ideas to recognizable signals.
Utilizing flooring options and wall installations can support the need to navigate within your space. Many adaptations of this use floor and wall decals or signage.
Incorporating Solutions in your Space
From the perspective of an interior finishing company, we have been eager to support businesses as they adapt their space with different wayfinding solutions. There are many solutions currently being implemented, such as vinyl decals and temporary signage. These solutions fail to work with your current finishes to create an affective interior that is both stylish and easy to navigate. Temporary signage does not last and has a tendency to peel and become damaged quickly.
We've researched and found that many of the most affective solutions are permanent or semi-permanent installations.
Before your employees come back to work, it's the perfect time to discuss your options for opening your business safely. There isn't a better time to take advantage of the possibility of new interior finishes and a fresh space. This will get your employees excited to come back, and make it safe for them to do so. Whether you're renovating an existing location or opening a new one, these solutions can be completely customized for any size of business.
There are several wayfinding solutions utilizing LVT and carpet tile that will incorporate into your space seamlessly and last for a long time. Beautiful design options are as adaptable and resilient as humans have been over the last year, and we're eager to help you find a way to keep your employees safe, and bring affective design into your workspace.
Wayfinding was important before the pandemic, and it will be just as crucial afterwards. Taking advantage of intentionality within your space will allow people to continue to interact in your space safely for years to come.
Find ideas for solutions for your space by contacting Crown, and take a look at some of the options we have here.